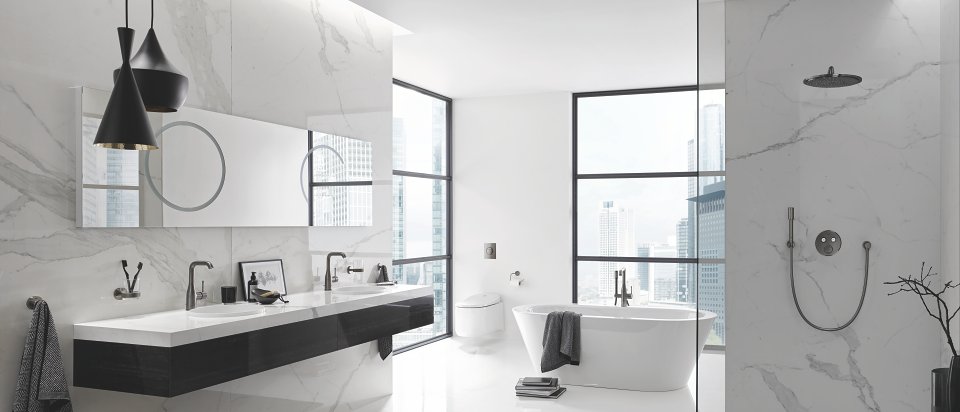 GROHE Colors Collection
The bathroom has long been under-designed. This is especially the case in smaller bathrooms where the scope of creativity can feel a bit limited, but even the smallest space can be given some attention and tender loving care. A great way to add the latest trend to your space is to install a colorful tap, shower, or accessory, and that is exactly why we developed the GROHE Colors Collection. If you're looking to add more color to your bathroom or are just a bit fed up with chrome fittings, you might find what you're looking for with GROHE Colors.
GROHE Colors: express your individuality
There is a huge selection of finishes in the GROHE Colors Collection, so whether you prefer matte finishes or high shine, we've got lots to choose from. Here are the color finishes that could soon be gracing your kitchen or bathroom: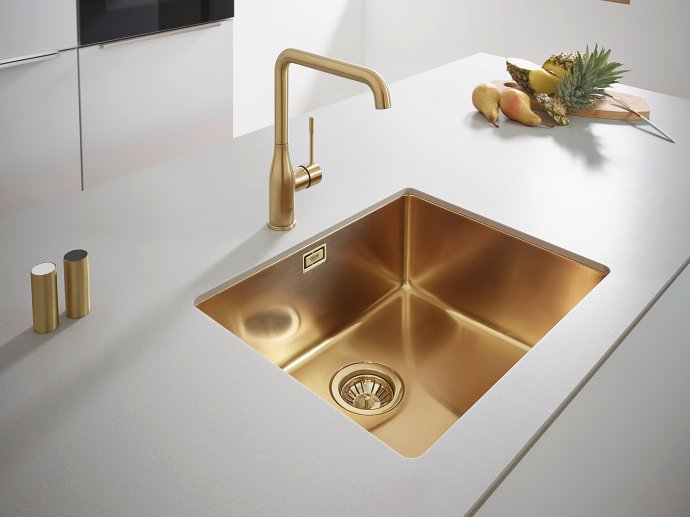 High quality materials with GROHE Colors
The GROHE Colors Collection is made with PVD technology, which is a step-up from common chrome plating. This PVD coating protects the taps and mixers and ensures that they are highly resistant to abrasion and can withstand rough handling. This is shown through the uniformity of the PVD coated colors because each layer of material is engineered to a degree of absolute precision. It is important that the adhesion of each layer is to a high standard so that the colors don't fade over time. PVD is up to six times stronger than electro-plated surfaces, meaning it is much stronger and long lasting and guarantees that these products can be enjoyed for many years. Since GROHE is passionate about the environment as well as guaranteeing the best quality products possible, the PVD technology used to produce the GROHE's Color Collection uses no harmful chemicals, meaning your stylish, high quality fittings don't have to cost the earth.
Options with GROHE Colors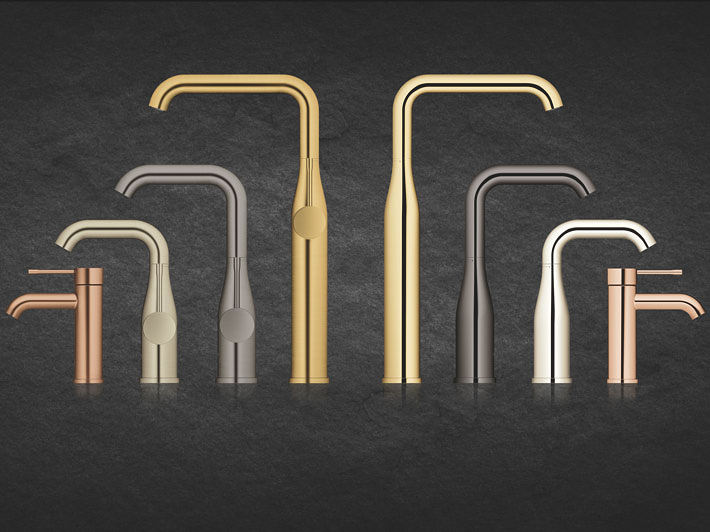 Thanks to the many options GROHE Colors offers, it is possible to match your plumbing fittings to your unique personal taste. If you're looking for a classic, subtle style, GROHE's Essence range is ideal. You can then personalise this classic look by opting for your favourite Essence tap in the color of your choice.
However, you'll be pleased to hear that it's not just the Essence range that can be stylised with GROHE Colors. The Atrio collection, with its contemporary flair and precise design, can also be personalised to suit your desires. Meanwhile, the sleek Eurocube design can be made to suit a bold wallpaper print by electing for the design in SuperSteel– either in the kitchen or the bathroom! If you like a classic design with a modern twist, the GROHE Plus range will suit your style impeccably – Hard Graphite is a finish to keep up with some of the latest kitchen and bathroom trends. An elegant space will be perfectly rounded off with the cosmopolitan Lineare range, designed with geometric balance in mind and customised to suit your unique space with GROHE Colors.