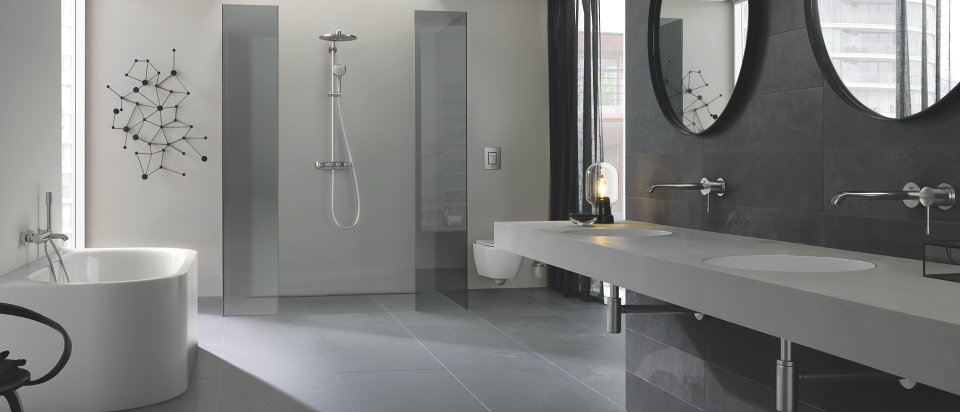 Contemporary minimalist design with SuperSteel taps
Do you want classic chrome taps but aren't afraid to try something a bit different? Are you looking to bring your kitchen or bathroom into the 21st century? If contemporary minimalist design is what you have in mind for your remodel, then SuperSteel is the finish for you. GROHE has given the timeless chrome color a brushed finish for a contemporary twist. Inspired by resolutely modern, cosmopolitan interiors, this color will never go out of fashion. To achieve a deluxe look in your kitchen or bathroom, GROHE has a full range of SuperSteel taps, showers, sinks, and accessories in various styles.
By choosing a classic color, you have more freedom to experiment in other areas. Here we give you the lowdown on stainless steel vs SuperSteel and provide inspiration on how to style the SuperSteel finish.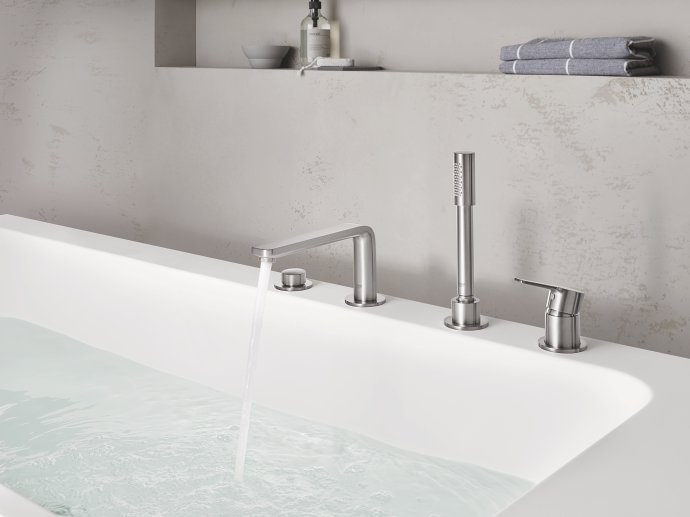 What makes SuperSteel taps better than traditional stainless steel taps?
If you are set on chrome basin taps but are worried about durability, SuperSteel is the perfect solution. SuperSteel looks like brushed stainless steel but, as part of the GROHE Colors Collection for kitchens and bathrooms, it has unparalleled durability. Compared to standard electro-plated stainless steel, our innovative PVD coating is more uniform, ten times more scratch-resistant and three times harder. If you follow our easy care instructions, your GROHE fittings will look as good decades later as they did on the day they were fitted.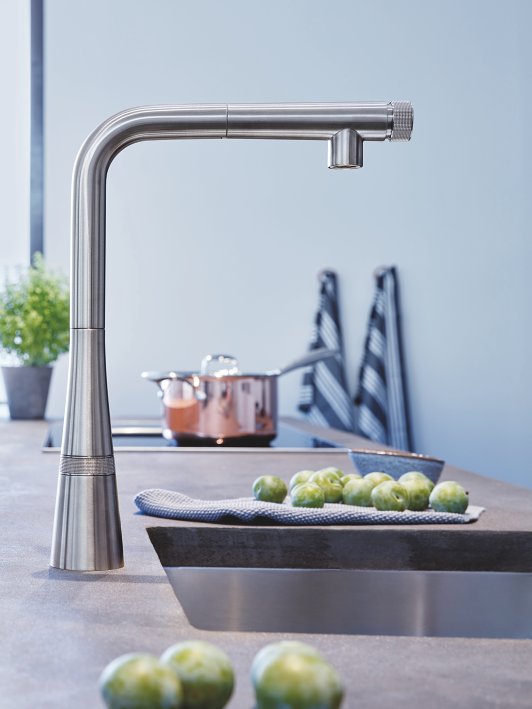 Which GROHE styles work best in SuperSteel?
When choosing a classic color like SuperSteel, you can either stick to an elegant, understated design or try something a bit bolder. For this reason, GROHE offers a wide range of aesthetics with a brushed stainless steel look that will never go out of style.
For a sleek, stylish kitchen tap with a smart design, you can't go wrong with the SuperSteel mixer taps in the GROHE Eurosmart collection. But if you are staying safe on the color so you can branch out with the style, we would recommend Essence kitchen mixer taps. The recently redesigned Essence collection is all about minimalist shapes and purity of design. Boasting a slight taper on the handle, these taps offer users sensual precision control. This striking range also covers bathrooms and translates into almost any bathroom style.
Other ranges that let you add your personal signature to your bathroom include the GROHE Eurocube collection, which celebrates the dramatic beauty of the cube with attractive, structured SuperSteel taps. For a cosmopolitan yet inviting aesthetic in your bathroom, we recommend our Lineare line. The range brings together two simple geometric structures – cylindrical bodies and thin rectangular handles and spouts – to create beautiful, harmonious looks. For a bold architectural feel, opt for the GROHE Plus collection. Inspired by the arc, the shape offers both strength and lightness.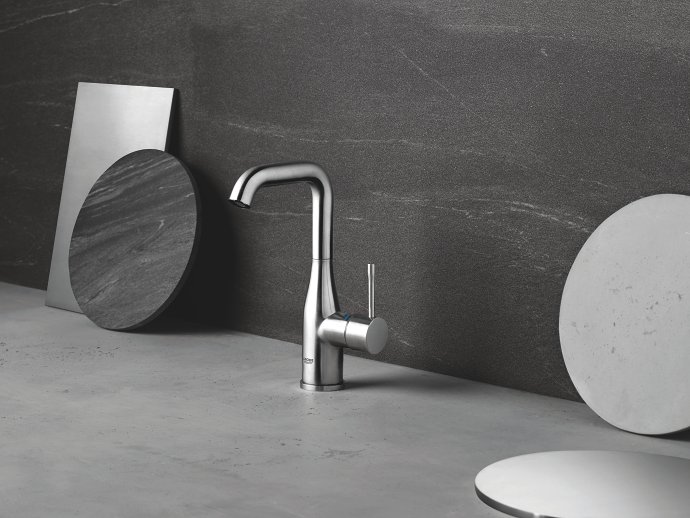 How to create a sophisticated look with SuperSteel taps
SuperSteel is the ideal companion for light marble, concrete, and mid-tone woods. To create a timeless, refined aesthetic, combine SuperSteel with tone-on-tone hues, such as silver travertine stone flooring. For a clean look, go for a stone with a grain that is not too busy and matches the brushed chrome finish. By choosing furniture and accessories in a metal with the same or a similar stainless steel finish, you can create an overall deluxe feel. Finally, finish off your interior with dark green plants to enhance the timeless appeal of the space.
Alternatively, complement the aesthetics of GROHE's SuperSteel taps with panels that create clear geometry throughout the space. Semi-gloss, light grey panels will highlight the flawless surface of SuperSteel fittings. Use subtle area lighting combined with bolder elements around the washbasin to accentuate the GROHE SuperSteel basin taps. Matte black accessories, bold shapes, and refined textiles complement this aesthetic, creating a striking contrast.
Where to find GROHE SuperSteel chrome products
Explore GROHE's full range of SuperSteel taps, showers, sinks, accessories and more on this page. Or get a closer look by finding a showroom near you.