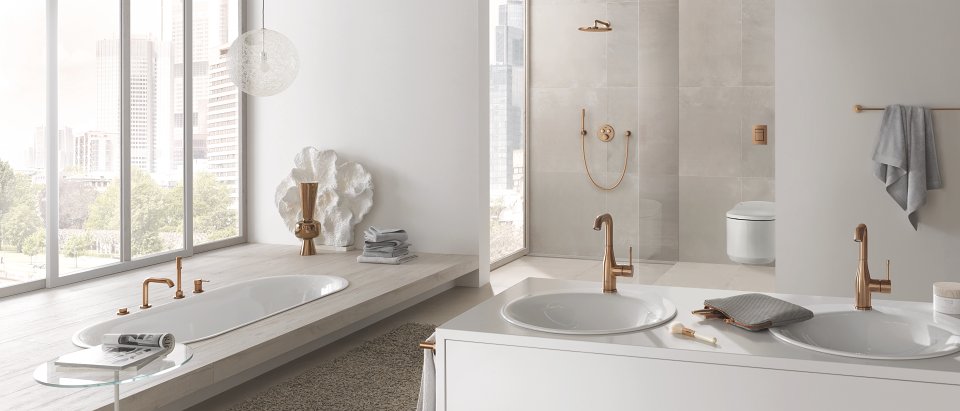 How to make a statement with Warm Sunset taps
Looking to add a personal signature to your kitchen? Or do you want to transform your bathroom into a relaxing sanctuary and need some inspiration? Look no further. Warm Sunset GROHE taps will stimulate your senses and add a touch of luxury to your interior. GROHE has a full range of Warm Sunset taps, showers, sinks and accessories in various styles to add warmth to your home.
If you want to tap into the rose gold trend but are not sure how to style it in a timeless way, you have come to the right place.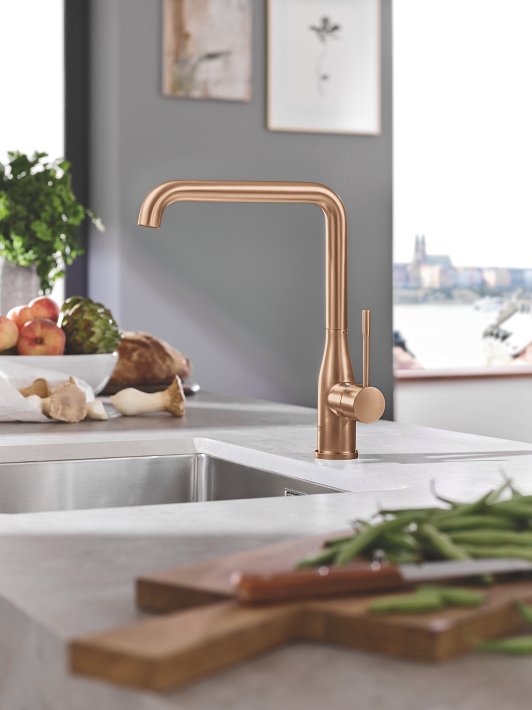 Which styles work best in Warm Sunset?
GROHE's Warm Sunset finish is a gorgeous rose gold color and comes in a wide range of aesthetics. The Essence, Atrio, and GROHE Blue Home ranges look particularly stunning in Warm Sunset.
If you want to add an elegant feel to your bathroom or kitchen, opt for our Essence line. This collection includes the bronze hues of Warm Sunset and Brushed Warm Sunset to help you fully express your individuality. Essence is all about minimalist shapes and purity of design for bathrooms and kitchens where beauty meets function.
If you are redesigning your bathroom but are worried that Warm Sunset is just a trend, don't be. Taps from the Atrio range have a timeless design that will never go out of style. Transcend trends by paring back to the essentials with the GROHE Atrio collection in Warm Sunset.
With its modern, minimal lines, a Brushed Warm Sunset GROHE Blue Home Mono kitchen tap is the smart choice for pure filtered water. In Warm Sunset, this tap makes a stylish addition to a contemporary kitchen, providing chilled still or sparkling drinking water on demand. And it is not just its style that is modern: it connects to your smartphone to monitor your water consumption and reorder filters and CO² bottles when you run out.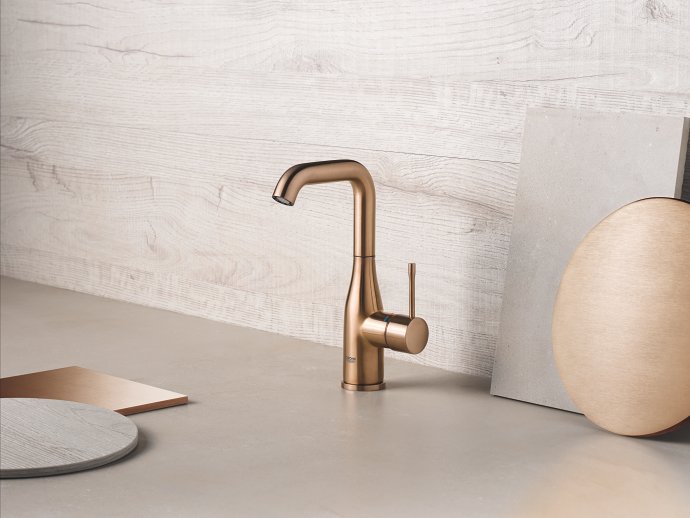 What kind of materials pair best with Warm Sunset taps?
GROHE's Warm Sunset finishes work best when used in high contrast with luxurious materials like dark stone or white marble. This serves to accentuate the taps and capture your attention, whether in the kitchen or bathroom. Only use simple patterns and keep the contrast in the rest of the room to a minimum – you want the taps to be the star of the show!
For a welcoming feel, combine Warm Sunset with natural oak, stone, and marble. Imagine sinking into an indulgent bath in the warm and inviting atmosphere created by pairing rose fittings with natural materials. Use bathroom accessories in the same shade to tie the room together with a consistent color scheme. By offering a full range of products in rose gold, GROHE gives you total freedom to design a bathroom that embodies your true self.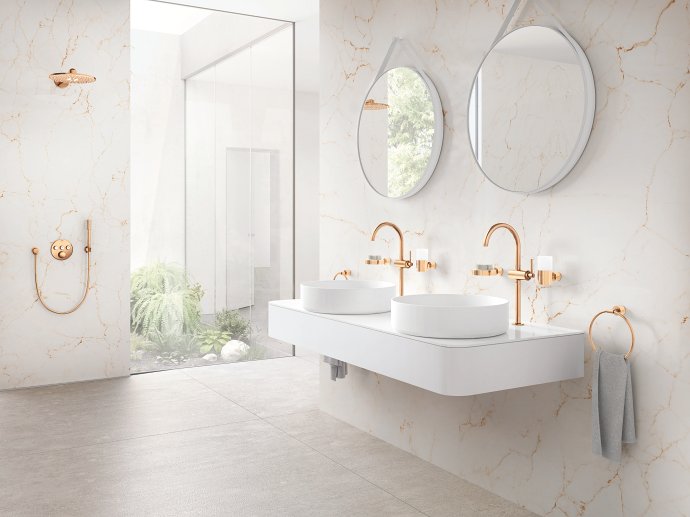 Should I choose Warm Sunset or Brushed Warm Sunset GROHE taps?
Between bronze and rose gold in color, Warm Sunset is available in two elegant finishes: polished or brushed. Your choice depends on what kind of look you want to achieve. A polished finish adds a touch of elegance to your room, while the satin finish of Brushed Warm Sunset exudes modern purity.
As part of the GROHE Color Collection for kitchens and bathrooms, both finishes are created using our innovative PVD process, making them incredibly durable. This state-of-the-art technology ensures your products will look as beautiful decades later as they did when they were first installed. Compared to standard electro-plated finishes, our PVD coating is more uniform, ten times more scratch-resistant and three times harder.
Where to find our Warm Sunset products
If you have decided that Warm Sunset is for you, then take a look at our selection of rose taps, showers, sinks, accessories and more on this page. Alternatively, you can find a showroom or installer to see them in person.