A comfortable thermostatic bath/shower system that's built to last – precision engineered by GROHE!
This water saving GROHE Euphoria 260 shower system with bath thermostat adds instant designer style and showering enjoyment to any modern bathroom. Packed with GROHE's cutting edge technology, top performance is guaranteed. Set your desired temperature with GROHE TurboStat and the water will stay just how you like it even if the supply fluctuates. The easy-to-use GROHE SafeStop feature limits the water temperature to a maximum of 38˚C – great for giving children independence in the bathroom – but can be raised for adults. The AquaDimmer lets you effortlessly control the volume of water while also directing the flow of water between the head and hand shower, which has a Silverflex (1750mm) TwistFree hose and separate diverter. GROHE DreamSpray ensures the flow of water from every nozzle is even. The 260mm head shower comes with three distinctive spray zones. Jet Spray is powerful and focused, perfect for washing out shampoo and an invigorating head or neck massage.The SmartRain Spray is wider for an energizing yet relaxing experience and Rain Spray uses all the nozzles on the generous spray plate for full body coverage and a truly soothing shower. To choose the spray you want all you have to do is turn the ergonomic button on the spray head. And the 450mm shower arm even swivels through 180° for added flexibility. The 110mm hand shower offers three spray options: the soft Rain, the eco-friendly SmartRain and the powerful Massage Spray.The handy silicone SpeedClean nozzles means the showers are easy to keep free of dirt and limescale! The durable StarLight chrome finish has a sparkle that lasts for years and the InnerWater Guide prevents the surface of the shower from getting hot. The GROHE Euphoria 260 shower system with bath outlet – a perfect bath and shower experience guaranteed!
with short shower rail for installation in showers
consists of:
Horizontal swivable 450 mm shower arm
exposed thermostat with Aquadimmer function
allows change between:
head shower Euphoria 260 (26 455)
3 adjustable sprays
Rain, SmartRain, Jet
with ball joint
angle of rotation ± 15°
bath spout
separate diverter for hand shower
hand shower Euphoria 110 Massage (27 221)
3 adjustable sprays
Rain, SmartRain, Massage
adjustable in height with gliding element
shower hose Silverflex 1750 mm(28 388)
distance between thermostat and upper bracket: 1016 mm
GROHE TurboStat compact cartridge with wax thermoelement
GROHE SafeStop at 38°C
GROHE SafeStop Plus optional temperature limiter at 43°C included
GROHE DreamSpray perfect spray pattern
GROHE Long-Life finish
GROHE SprayDimmer (Stepless flow rate reduction)
SpeedClean anti-lime system
Inner WaterGuide for a longer life
TwistStop (to prevent hose from twisting)
suitable for instantaneous heaters (min. 19 kW/h)
minimum flow rate 7 l/min.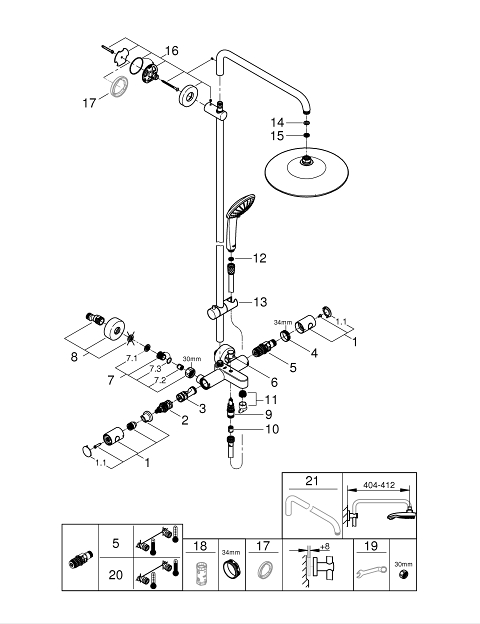 Pos.-nr.
Prod. Description
Order-nr.
* Optional accessories

1

Costa metal handle 1/2"

47984000

1.1

Cap

6458500M

2

Aquadimmer

47364000

3

Water flow

47887000

4

Fitting ring

47743000

5

Thermostatic compact cartridge 1/2"

47439000

6

Diverter knob

65648000

7

Non-return valve

47189000

7.1

Dirt Strainer

0726400M

7.2

Non-return valve

08565000

7.3

O-ring ø17 x ø2

0305500M

8

S-union

12662000

9

Diverter

65655000

10

Non-return valve

08565000

11

Mousseur

13926000

12

Dirt strainer

0700200M

13

Sliding piece

12140000

14

Fibre seal dia. 12x2 mm

0138900M

15

Dirt strainer

48007000

16

Outlet shower holder

48279000

17

Compensation disc

27180000*

18

Socket spanner

19332000*

19

Special spanner

19377000*

20

GROHE TurboStat cartridge 1/2"

47175000*

21

Shower arm for shower systems

14047000*
Products and accessories for the installation