Euphoria System
Perfect proportions and consistent geometry
Equipped with the same GROHE technologies as GROHE Tempesta systems, GROHE Euphoria systems feature in addition luxury head showers from 210 mm to 310 mm in diameter.
New Euphoria 260mm head shower features three spray zones to choose from. With just the turn of a knob you control the spray from a powerful Jet spray for rinsing out shampoo to a Rain spray that relaxes you after a long day at work.
Other variants feature metal showers with GROHE PureRain Spray, the new and improved Rain Spray with even larger and softer droplets for a luxurious showering experience. DropStop function prevents after-dripping when closing the valve.
GROHE Euphoria shower systems are easily fixed to the wall and instantly add value to the bathroom both in functional and visual terms. The shower rail features GROHE CoolTouch to prevent scalding and to protect the GROHE StarLight chrome surface. For a 100% Cubist bathroom go for GROHE Euphoria Cube shower systems with 100% Cube showers and shower system.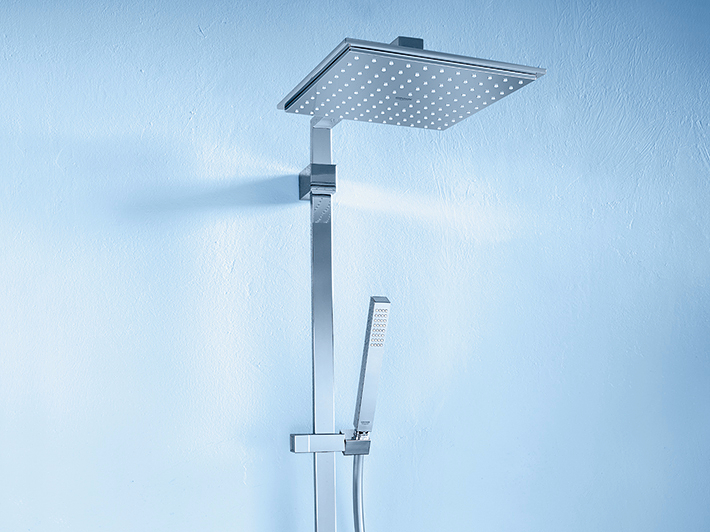 Euphoria Cube System
A precise combination of square and rectangular shapes enhanced with the latest GROHE technologies make Euphoria Cube Shower System the smart choice if you appreciate minimalist design in the bathroom.
The reduced lines and modern aesthetic of the hand shower reflect the crisp square outline of the head shower in this understated collection, which introduces pure geometric forms to your shower environment. For perfect delivery of our exhilarating Rain spray pattern, Euphoria Cube showers feature GROHE DreamSpray® technology.