GROHE Live! Center Singapore
The GROHE Live! Center is a premium gallery showcasing the luxury range of GROHE bathroom and kitchen fittings. Exclusively dedicated to trade professionals and privileged clientele, the showroom presents an opportunity for developers, designers and architects to experience first-hand, how GROHE can transform the way we all enjoy water.
Situated in the heart of the city, the GROHE Live! Center spans 5,700 square feet of distinguished and award winning products, including the latest GROHE SPA® collection, an unrivalled range of products to realise a unique bathing space.
Part of our expanding GROHE SPA® collection, the stellar GROHE Allure Brilliant illustrates absolute precision of intriguing angles and cut-out details, while the GROHE F-Digital stirs a quiet revolution in the bathroom, and the GROHE Power&Soul puts control in your hands with desirable DreamSpray® patterns. Complementing the spa experience is the GROHE SPA Lifestyle Accessories, a treat for your senses with body care and home fragrance.
Presenting our intelligent kitchen collection, the GROHE Blue draws fresh, pure and great-tasting water directly from your kitchen tap; it is the new name of freshness. Ready in seconds, the GROHE Red® 'heat things up' by providing instant piping hot water on demand from the kitchen tap. Both systems offer ultra convenience on tap and reform the role of the kitchen faucet.
Interactive product demonstrations allow visitors to experience how GROHE bathroom and kitchen fittings can provide inspired solutions for contemporary living or commercial fulfilment. Each collection remains true to our three brand values: human, easy and performance, resulting in a range of user centric products that combine the latest technology with enticing and intuitive design.
From start to finish, GROHE SPA® collection ensures more choice, more features and more enjoyment, because Home is where my GROHE SPA® is.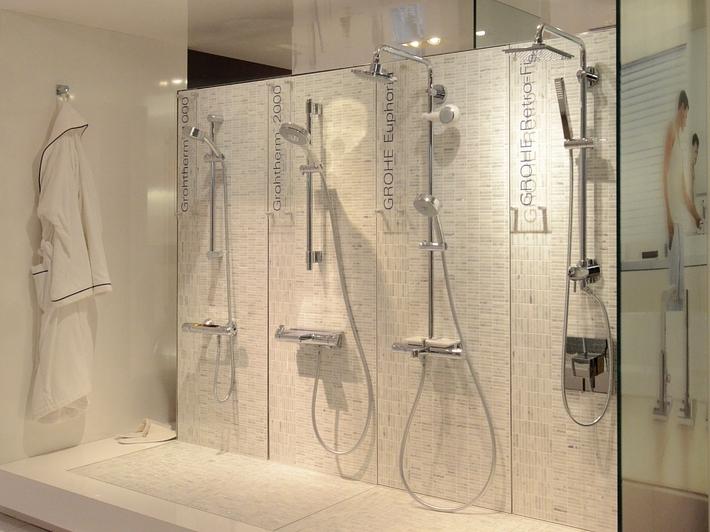 The GROHE Live! Center is open by appointment only. For more information, please call +65 6311 3611.
Grohe Live! Center, Singapore
GROHE Pacific Pte Ltd
180 Clemenceau Avenue #01-01/02
Haw Par Centre
Singapore 239922
Phone : (65) 6311 3611
Fax : (65) 6738 0855
Internet : www.grohe.com.sg
Opening hours: Monday to Friday, 9am - 6pm.